Hands Free bill => Call to Action
==>> Contact your state Representative today (through email or a phone call), and
==>> Urge them to Support H.3394 by Co-Sponsoring it!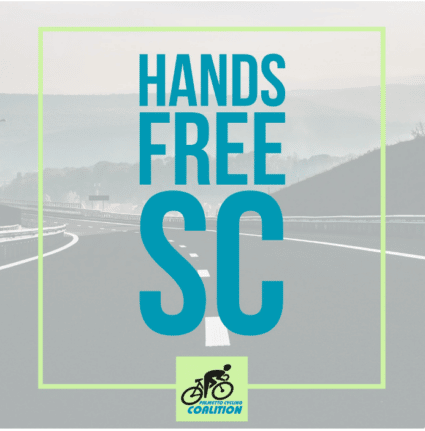 For the past 6 years, legislators heard from a windfall of supporters that our state is ready for enabling safer streets, by removing our ability to handle a phone while our car is in motion among other humans in traffic.
Senate bill S.157 is sponsored by Senator Young.  House bill H.3394 is sponsored by Rep. Taylor.  Both bills require motorists not hold a cell phone while operating a motor vehicle, in most cases.  These have broad support from dozens of state and local organizations and agencies.  Both bills have been negotiated for the past 6 years, and each includes a number of exemptions,  considerations for equitable justice, data collection for accountability in equitable implementation, etc.
NEXT ==>>  Find and share this campaign on social media:
Supporting stats:
Universal hand-held calling bans were associated with 10% lower non–alcohol-related driver fatalities overall and up to 13% lower fatalities across all age groups and sexes, amongst 190,544 drivers from 2000 - 2014, comparing crashes before and after bans. When comparing state-quarter-years with bans to those without, universal texting bans were not associated with lower fatalities overall or for any demographic group. (Rudisill, 2018).
In South Carolina, 5 years of crash data (2017 – 2021) showed that on average, Distracted/Inattention, On Cell Phone, or Texting, was involved in 27% of collisions. (SCDPS, 2022, on request from Senate)
In 2022, the SC General Assembly passed the Police Betterment bill, which enacted state standards and certification for local police officer behavior.  This was a necessary step to improve public trust in law enforcement, so the Hands Free bill can be passed with the least amount of undue harm to communities who are also disproportionately the victims of distracted driving.
Because on average 100 people die annually in SC from distracted driving, the average annual, real economic cost of distracted driving is $175,000,000, and the average annual, comprehensive cost of distracted driving is $1,114,490,000. (National Safety Council and SCDPS data combined).  https://injuryfacts.nsc.org/all-injuries/costs/guide-to-calculating-costs/data-details/