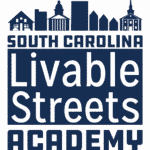 SC Livable Streets Academy
Since SCDOT adopted its state Complete Streets policy in early 2021, work remains to engage locally.  While the new policy is powerful, work remains to engage citizens and cities with those regional planning bodies. The SC Livable Streets Academy was created to formalize the assistance we give communities and neighborhoods to obtain funding for their safe mobility needs.
The Livable Streets Academy will provide Hosted Webinars, partnering with our SC Livable Communities Alliance, to the public at large.  These will be followed by a request for brief applications for further one-on-one meetings and customized trainings.
Priority will be given to community groups of citizens who are diverse, committed to attend towards a common goal, and who already have a relationship at least one elected official.  Contact us for more information today!