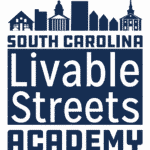 SC Livable Streets Academy
Since SCDOT adopted its state Complete Streets policy in early 2021, work remains to engage locally.  The new SCDOT Complete Streets policy is powerful in its promise of standard funding, and we are proud SCDOT is taking the lead with regional planning bodies known as MPO's and COG's.  Additionally, since the federal infrastructure bill there are additional federal funding grant opportunities.  The SC Livable Streets Academy was created to formalize the assistance we give communities and neighborhoods to obtain funding for their safe mobility needs.
This program aims to help locally-driven pedestrian and bike projects come to fruition, by feeding the knowledge and power base of local citizen leaders.  We aim to elevate the equity lens of using good data, investing in areas of greatest need, and utilizing quality public input.
The Livable Streets Academy will provide Hosted Webinars, partnering with our SC Livable Communities Alliance, to the public at large.  These will be followed by a request for brief applications for further one-on-one meetings and customized trainings.  The goal is accessing all levels of public funding for safer biking, walking, mobility, and active transportation & recreation:  within your city, county, region, state, and federal government.   Contact us for more information today!