Hands Free, S.157 (Sen. Young); H.3394 (Rep. Taylor):

A bill that requires motorists not hold a cell phone while operating a motor vehicle, in most cases.  This bill has broad support from state and local organizations and agencies.

Tax credits for Trail Easements, H.3121 (Rep. Hyde):

A bill that gives property owners a state income tax credit if they agree to a trail easement. Easements are voluntary and necessary to patch together a trail corridor. Trails contribute to safer active transportation, economic development for communities and regions, and the eco-tourism that provides a small economic engine for some small communities. The impetus of this bill came from trail building efforts by Partners for Active Living in Spartanburg; the bill was refined by Upstate Forever; and it is supported by trail advocates statewide.

SC Public Lands Enhancement Act, S.281 (Sen. Campsen & Davis):

Dedicates the amount derived from sales tax revenue from sporting goods stores to be credited to the Public Lands Enhancement Fund, for capital improvement projects that create, improve, or restore access to public lands and waters, facilities, natural resources including fish and wildlife populations, or recreational opportunities, for use by agencies.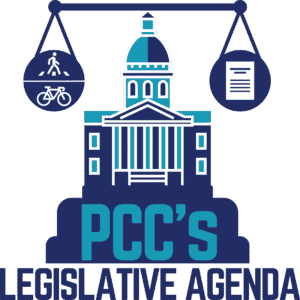 Other bills we're watching in 2023
Brief history of PCC legislative agenda:
In 2020, we achieve passage of the Electric Bike law in South Carolina, Act 114, through H.3174.
In 2017 and 2018, we advanced H.3615, an evolution from the previous year's H.3909, known as the Bicycle and Pedestrian Safety bill.  Both bills succeeded through significant negotiations and agreements with both the Judiciary and Transportation committees in both chambers, but did not achieve a final vote.
In 2014, we successfully fought back against a bad "bike liability bill" and another regarding bikes on sidewalks (a very context sensitive issue, which remains a local ordinance responsibility).
From 2005-2008, we achieved passage of the Bicycle Safety law, Act 317, through H.3006.
From 2003-2004, we advanced and achieved the SC Safe Routes to School law, Act 307, through H.4740.