Low Stress Bike Routes / Networks mapping project
PCC recognizes biking needs to feel safer and less stressful, in order to encourage more riders.  Advocating for a better built environment takes time, but we need something right now to ride more.  That's where Low Stress Bike Routes & Networks are helpful.  But where are they?  This project is a mapping tool to help you - the average person - find the safest and least stressful bike routes and networks, already in existence throughout SC.
Below is a glance of PCC's interactive map of Low Stress Bikes Routes throughout South Carolina.  We will take the interactive version live soon.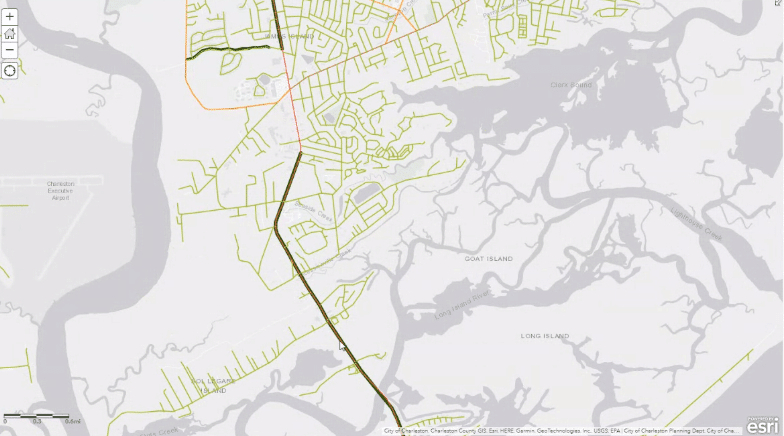 Use this map to help you:
Ride more!  How do I ride more, while avoiding high stress routes?
Navigate better!  How do I navigate within, through, and between neighborhoods, so I'm taking the least stressful route to work / school / friends / recreational rides?
Find a better route, just for you!  Where do I ride, if I need to get anywhere from my house, on the lowest stress streets?  How do I change my route to avoid high stress streets?  What backroads are helpful connections?
Develop connections!  Develop trail or intersection improvement concepts, so you can connect patches of low stress routes.  Where should we place a trail in our town, so the most people can get to it, without needing a car?
Develop places of interest!  Where should I locate my business, so I'm accessible to a lot more people by bike?
We aim to help people find the best low stress bike routes and networks, to best meet their individual needs, for either comfortable bike commuting or safer recreational riding.  The final product could be printed maps, customizable for local details & municipal branding.
Initiated in 2021, we worked with a Clemson graduate student during the 2022-2023 academic year, in the City & Regional Planning Department, to aggregate a database of all routes in SC relative to stress level.  Stress level is relative to these factors:  number of cars, speed, number of lanes, and other related factors.