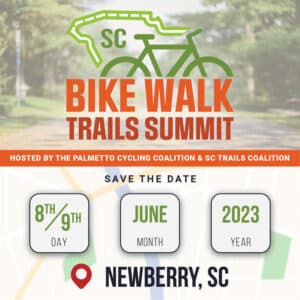 Dates announced for 2023 SC BikeWalkTrails Summit
Mark your 2023 calendar NOW and plan to join us in NEWBERRY in June.
Building on the successful Mayor's Bike Walk Summit hosted by PCC in 2017, we are adding TRAILS and new partners to the 2023 Summit.
Going LIVE and in person ONLY, this Summit will bring back the personal touch, explore a vibrant community, and energize planners and professionals from across South Carolina
Keep up to date as plans develop by bookmarking THIS PAGE on our website and checking back often. Registration opens in early March.
The target audience for this Summit is professionals in planning, engineering, community and economic development, tourism, etc. Continuing education credits are in development. Sessions are being designed in these paths:
Community engagement, equity, and regulations: One of the toughest parts of the job of any Community Planner or Engineer is constructing projects that reflect community needs. How to best engage communities to gather quality public input. How to advance equitable community development. How do regulations that govern mobility serve communities?
Planning, design, & jurisdictional coordination with funding: What are model trail, sidewalk, or bike plans across South Carolina? How are cities and towns getting these funded and implemented? What are model examples of seeing a vision become a reality, by coordinating across various jurisdictions?
Community development & funding: How to best use public funding to develop communities where all are served well. What funding sources are working well at implementing plans across South Carolina, and what additional sources should be used? Hear from leaders who are tapping funding to transform their towns.
We hope to see you at the Summit!
Email [email protected] with all your questions.